The government has set out its plans for what is known as the building safety case. This is a key requirement under the Building Safety Act.
Whilst the official regulations have yet to come into force there is some useful guidance on the Building Safety Regulator (BSR) page here – HSE-Safety Cases. The Principal Accountable Person (PAP) will need to submit their building safety case report from April 2024 onwards, when called upon by the BSR. 
The Safety Case
The safety case is all the information used to manage:
The risk of fire spread
The structural safety of your building
Some of this information demonstrates prevention of the risk of fire or a structural failure in the building, and how it would be mitigated should such an incident occur.
Safety cases have been in use in a number of other sectors for several years such as in the aviation industry, and by introducing them into the built environment the expectation is that this will lead to greater safety management of high rise buildings.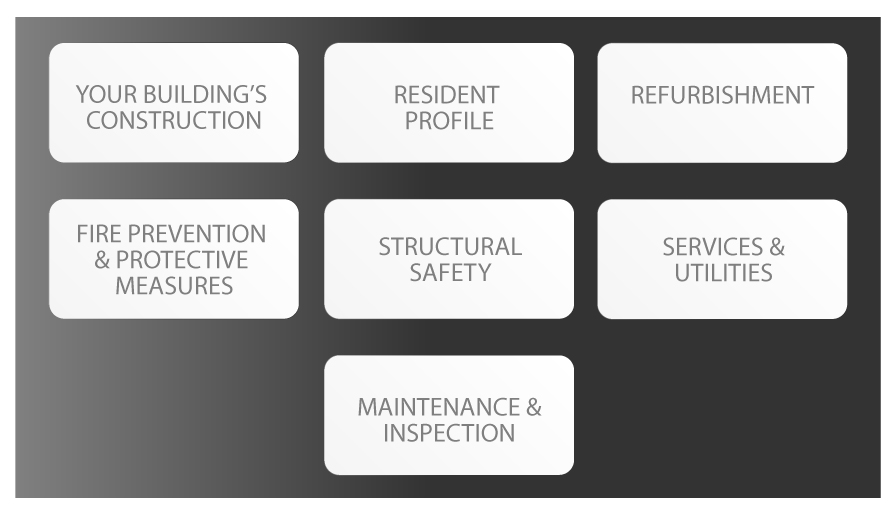 What needs to be done
Whilst pilots are underway, the BSR has yet to produce examples of what constitutes a good safety case report. The government has published useful guidance as to what needs to be included within the safety case and subsequent report. We are fortunate enough to sit on several industry forums, so are at the forefront of receiving relevant and timely updates
The first stage of the process will be reviewing certain key pieces of information. Every effort should be made to reasonably find this information.
The information is likely to be found from a variety of sources, including some of the below, which the building may already have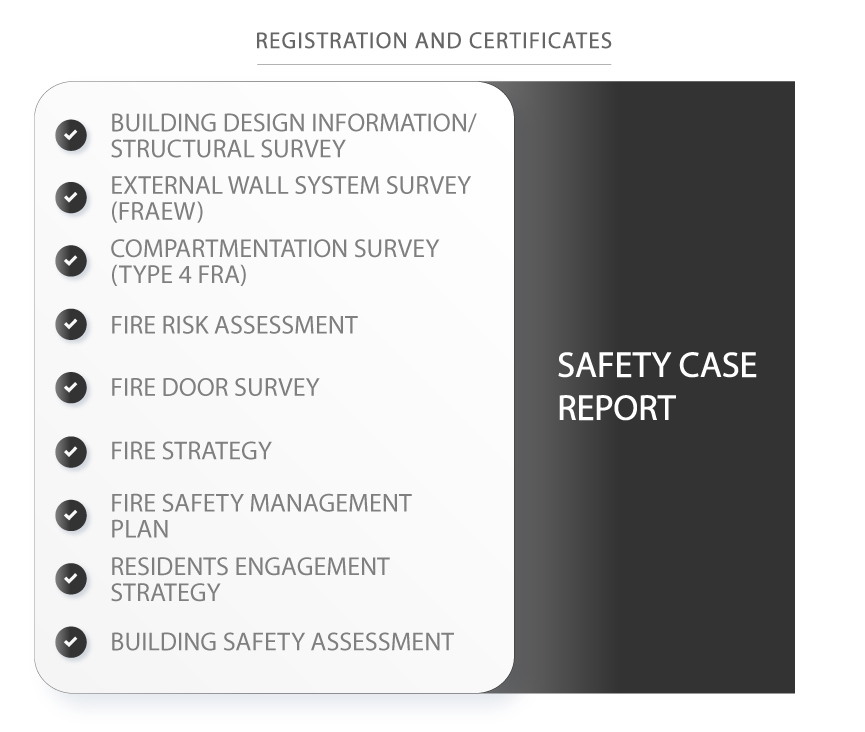 If this information is not readily available, further surveys by external third parties/consultants etc will need to be commissioned to fill in any gaps.
An example of this could include if the original fire strategy is not available, a specialist will need to be appointed to undertake a retrospective strategy. If there has not been any recent structural surveys of the building to confirm its structural safety, you may need to commission surveyors to undertake these type of surveys for you. 
A detailed risk assessment will also need to be undertaken for each high rise building. Key to this will be scenario planning, considering the potential hazards in the different areas of the building and how the lifecycle of the building impacts on structural safety just being some examples. It is likely that the risk assessment will need to be completed by competent persons. 
What will this cost?
Populating a safety case and the report will require significant financial outlay due to the likely costs associated with appointing external consultants and third parties. Whilst it is yet to be confirmed it has been reported that the BSR will also charge a fee to review safety cases. It is important therefore that, in conjunction with your property manager, you consider the financial budgeting requirements to ensure funds are in place so that the compilation of the safety case can start without delay. Many external consultants will also be experiencing a high demand for their services so it is important to be proactive and get any additional surveys etc instructed sooner rather than later.
Support
We appreciate that there is plenty of information required, as mentioned above, along with diligent financial planning needed. However, if the information and budget planning process is not started now the danger is that when invited to do so the BSR may not grant the all-important Building Assessment Certificate.