The Building Safety Act (BSA) 2022 was commissioned in the UK in response to the 2017 Grenfell Tower fire tragedy.
This legislation aims to improve building safety and prevent similar incidences from recurring. It does this by placing obligations on those parties building and managing high-rise residential buildings and other multi-occupied residential buildings, which are defined as 'higher-risk'.
Registration
A key requirement under the Building Safety Act is the registration of higher-risk buildings with the Building Safety Regulator (BSR)*. This applies to new and existing buildings that meet the height and occupancy criteria – that is buildings deemed as over 18m in height or 7 storeys or more with two or more residential units.
Providing the BSR with the specified information required as part of the registration, must be completed by the Principal Accountable Person(s) (PAP). This is typically an individual or organisation, such as the RMC or Freeholder. The PAP is often who is responsible for the management and maintenance for the exterior of the building. The new act places additional obligations on them to minimise or eliminate the risks from the spread of fire or structural failure.
What needs to be done
The registration window is now open. Registration must be completed before the 1st October 2023 deadline. Failure to register with the BSR or comply with the building safety requirements can result in penalties and legal action.
Upon the initial registration application, the next stage in the process will require you to provide the Building Safety Regulator with key details of your building. It is important to note that the provision of this information must be completed within 28 days of an application for registration. In addition, a registration fee of £251 per building is also required.
Key building information:

The information is likely to be found from a variety of sources, including some of the below, which the building may already have: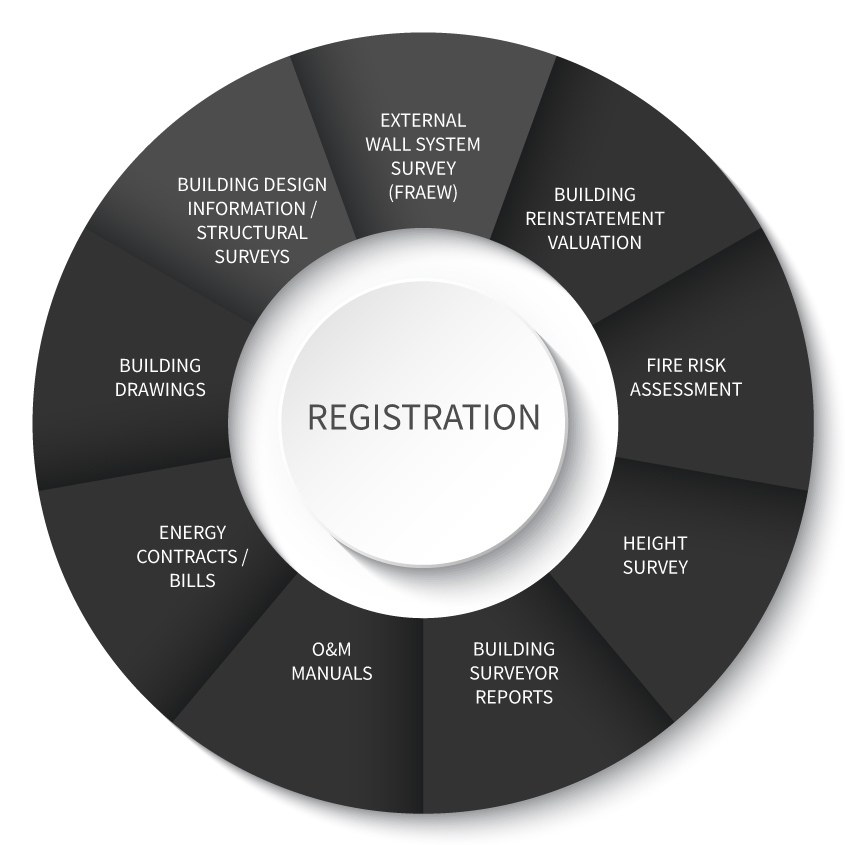 The Building Safety regulator will use this information to compile the national register of high-rise residential buildings, which will be accessible to the public.
More information
We appreciate that there is an abundance of information required, as covered above, and seeking the relevant information from multiple sources for your building will be tough to navigate, however it is instrumental towards the comprehensive safety case report. Without it, the BSR may not grant the all-important Building Assessment Certificate. 
Further information about how to prepare for the registration can be found here.
GOV.UK – REGISTERING A HIGH RISE BUILDING
---
*Under the Building Safety Act, the Building Safety Regulator (BSR) was established as a new regulator within the Health and Safety Executive (HSE). The BSR is responsible for overseeing the new regulatory regime and ensuring that relevant parties (building owners and managers) meet their responsibilities for building safety.
More information about the Building Safety Regulator's role and how they can support you, can be found here.